September 11, 2022
Weekly poll results: Sony Xperia 5 IV well loved, but overpriced
Sony has never been the go-to brand for cheap phones, certainly not in the flagship segment, and the Xperia 5 IV is no exception. That being said, last week's poll shows that the phone can have broad appeal if only its pricing was more palatable.
Half of the voters who took part like the phone, but are not willing to part with $1,000/€1,050/£950 to pick one up. For comparison, the Mark 3 model from last year cost almost the same at $1,000/€1,000/£950. That's nothing compared to Apple's price hikes for the new 14-series, which now lacks a mini member to boot (the iPhone 13 mini is still available at a reduced price).
Going back to the Mark 3, when we polled you last year the fraction of people who thought it was too expensive was smaller and a good deal more people were preparing to buy one. However, looking at the Xperia 1 IV poll from this year also shows a prevalent opinion that the price is too high. A sign of the times, perhaps?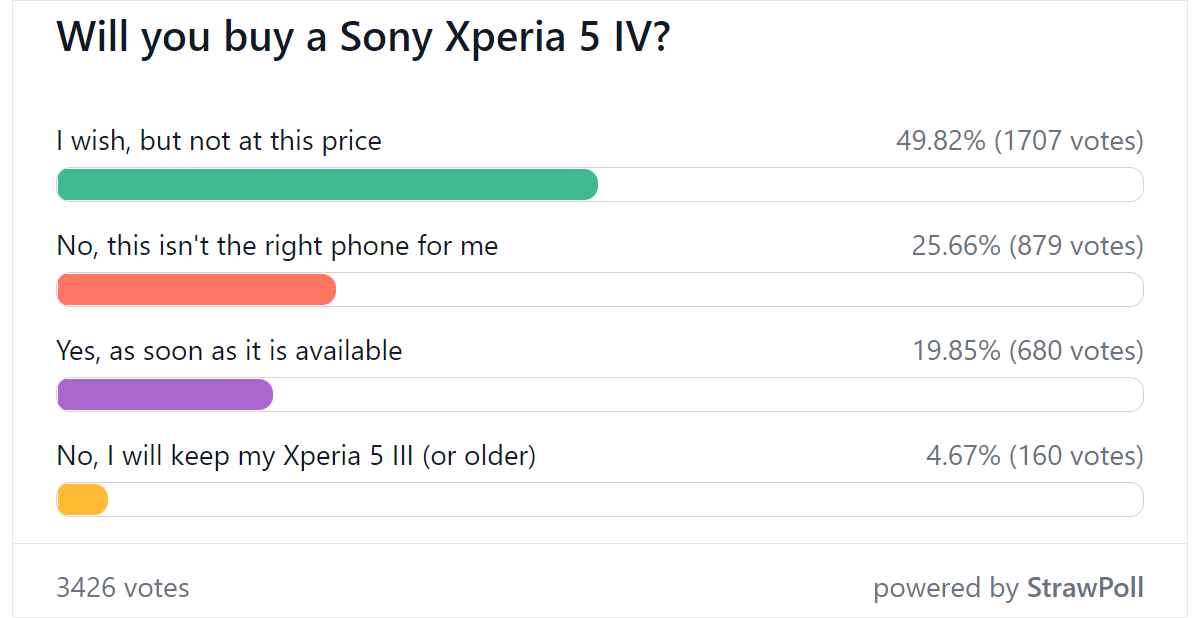 There were plenty of reasons given as to why the Xperia 5 IV is not worth as much Sony wants for it. The limited software support is a big one – Sony is bad at it compared to Android makers, never mind Apple.
The choice of the original Snapdragon 8 Gen 1 is another, especially considering how small of a gap there will be between Mark 4's arrival (later this month) and the Snapdragon 8 Gen 2 (to be announced in November with phones to follow shortly).
The step back in the telephoto camera department didn't go unnoticed either. Also, while most love the lack of punch holes and notches on the Xperias, not everyone is in love with the 21:9 aspect ratio as Sony is.
But no one can knock the Mark 4 for not having a 3.5mm jack or a microSD slot or now even wireless charging support. That is why a good 20% of voters are ready to buy the phone, even if it is on the pricey side.