July 19, 2022
Sports scoreboard for Monday, July 18, 2022
Monday's Scoreboard
CONCACAF W Championship
Final
U.S. 1 Canada 0
This report by The Canadian Press was first published Monday, July 18.
The Canadian Press
---
Looking for National Sports News?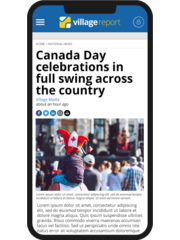 Check out Village Report – the news that matters most to Canada, updated throughout the day.  Or, subscribe to Village Report's free daily newsletter: a compilation of the news you need to know, sent to your inbox at 6AM.
---