October 1, 2022
Ron DeSantis Is 'Trump With Substance' in Response to Ian: Former RNC Spox
Florida Republican Governor Ron DeSantis received praise on Saturday from a prominent GOP figure for his handling of Hurricane Ian.
Ian made landfall in the western part of Florida on Wednesday as a Category 4 hurricane, leading to widespread damage and flooding as it cut across the state. The most recent estimate from CNN puts the storm's death toll at around 45, though one Florida sheriff estimated that the true number of fatalities could be "in the hundreds."
In the months preceding the storm, DeSantis made a name for himself as one of the most high-profile Republican leaders in the country, through controversial culture-war legislation like the "Don't Say Gay" bill and his recent stunts that saw migrants flown to Democratic-led areas like Martha's Vineyard in Massachusetts. Those moves come as DeSantis is widely expected to run for president in 2024, making him the most prominent hypothetical candidate outside of former President Donald Trump.
Despite his antagonism against Democrats, DeSantis has been in touch with the Biden administration within the last week to discuss hurricane relief efforts for the state. Doug Heye, a former Republican National Committee (RNC) spokesman, told The Hill on Saturday that his ability to work with and oppose Democratic leadership at the same time makes for a favorable comparison between the Florida governor and Trump.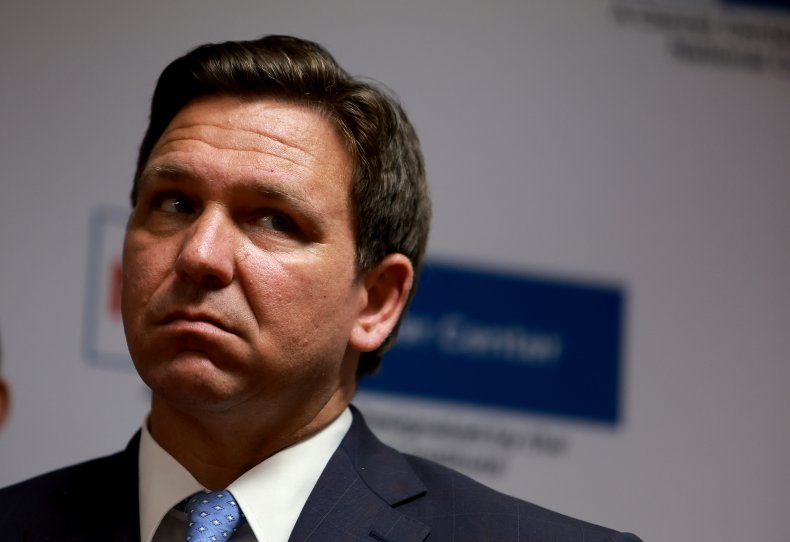 "DeSantis is showing—though the process is ongoing—that he can play both the political culture warrior and the in-charge governor of the entire state," Heye told the outlet.
The former RNC spokesman went further in praising the governor in comparison to the former president, calling DeSantis a "Trump with substance."
On Thursday, President Joe Biden said at FEMA headquarters in Washington, D.C., that he "approved the governor's most recent request for an expedited major disaster declaration. That means the federal government will cover 100 percent of the cost to clear debris and for all the costs that the state has to do—has to engage in and expend to save lives."
When asked by a reporter about his relationship and conversation with the Republican governor, Biden said it was "very fine."
"He complimented me. He thanked me for the immediate response we had. He told me how much he appreciated it. He said he was extremely happy with what's going on," the president said. "This is not about…anything having to do with our disagreements politically. This is about saving people's lives, homes, and businesses. That's what this is about."
Newsweek reached out to Trump's office for comment.
DeSantis's tactics in handling Hurricane Ian have not been without scrutiny, with some alleging hypocrisy in comparison to his earlier stances on similar situations. In 2013, DeSantis came out against the use of federal funding to help New York, a consistently Democratic-led state, in the wake of Hurricane Sandy. DeSantis was, at that time, a recently elected congressman representing Florida's 6th District, and voted against a relief funding bill on one of his first days in office, saying that the move would be fiscally irresponsible, local news station WUSA 9 News reported Thursday.
As reported by CNN, DeSantis has also urged Florida residents to follow orders and instructions from local officials pertaining to the storm. This is in contrast to his past comments urging residents to disregard COVID-19 restrictions set by local leaders. DeSantis's office downplayed the comparison, calling such pandemic safety measures "overreach."
Nevertheless, Heye said that the governor's collaboration with the White House could help endear him to voters.
"Voters have a reasonable expectation that in times of crisis, governors and presidents of different parties have to work together," Heye added. "Should either party fail to do so, it potentially opens them up to criticism of failing to do their job when voters are in real need. That's a much bigger problem than a criticism essentially of 'You did the job of representing all voters too well.'"