April 21, 2022
New Zealand to Deploy Military Aircraft, 50 Personnel to Aid Ukraine War Effort
New Zealand (NZ) will deploy a C130 Hercules military aircraft with 50 personnel to Europe on Wednesday to support Ukraine against Russia's invasion.
Prime Minister Jacinda Ardern also announced NZ$13 million (US$8.9 million) in further support, including $7.5 million to procure of weapons and ammunition via the United Kingdom and the deployment of eight logistics specialists from the NZ Defence Force, to be based in Germany.
Over $4 million (US$2.7 million) will also go towards supporting commercial satellite access for the Ukrainian defence intelligence.
"The needs of Ukraine remain broad, urgent, and are changing rapidly," Ardern told reporters on April 11. "The enormous quantities of military support that countries are contributing has made distribution difficult, and there is now a growing need for transportation, logistical support, and people power to deliver to Ukraine's military and citizens what is so urgently needed."
The C130 and team of 50 will travel throughout Europe carrying equipment and supplies to key distribution centres, but will at no point enter Ukraine.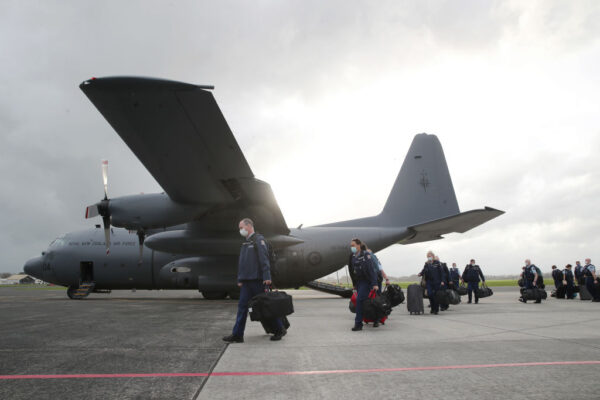 "This deployment is in response to a direct ask by the UK, which identified that New Zealand could play a tangible role in supporting what has become an enormous logistical task," Defence Minister Peeni Henare said.
Ardern said NZ was "playing our part in a significant way," particularly as a country situated on other side of the world.
"[UK Defence Secretary Ben] Wallace made it very clear that despite New Zealand being at the bottom end of the world from the conflict, he noted our contribution in line with our partners, namely Australia and the U.S.," Henare said.
Ardern noted that the NZ government has always questioned the "arbitrary distinction" between lethal and non-lethal aid support towards the war effort.
She said the deployed personnel will be on the ground aiding the war effort for two to three months as opposed to a "five-minute contribution" that Javelin missiles could give.
"What we've been told is that it's actually better to go through UK or the NATO coordination centres to actually provide military, in terms of weaponry," Defence Force Chief Air Marshal Kevin Short said.
Foreign Affairs Minister Nanaia Mahuta said this package was a further extension of what was already New Zealand's most significant response to an international crisis.
This announcement brings New Zealand's total contribution to Ukraine to $30 million (US$20.5 million) and deployment of 67 people.
Rebecca Zhu is based in Sydney. She focuses on Australian and New Zealand national affairs. Got a tip? Contact her at [email protected].