March 27, 2023
Mark Levin: 'The greatest threat we have is China
Fox News host Mark Levin laid out his concerns about Russia and China's growing alliance with each other and China's growing presence worldwide Sunday on "Life Liberty & Levin."
He highlighted Chinese President Xi Jinping's meeting with Russian President Vladimir Putin as a main cause of concern, but argued the "greatest threat we have is China." "It's not Russia. It's not Iran. It's China." 
Levin said China is on the move and has become a global force attempting to build alliances and create influence with other world leaders. 
"They're building alliances with Russia for a reason. Alliances with Iran for a reason, alliances with North Korea, Saudi Arabia and other countries for a reason," he explained.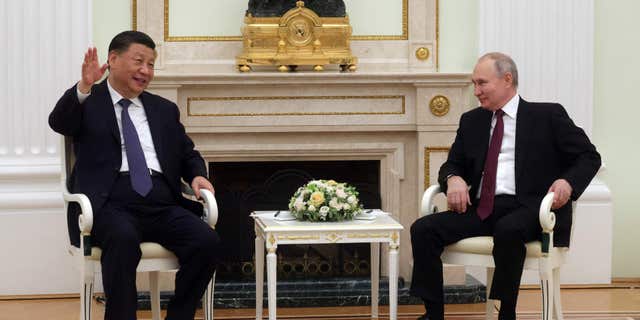 Russian President Vladimir Putin speaks with Chinese President Xi Jinping at the Kremlin on March 20, 2023.  (SERGEI KARPUKHIN/SPUTNIK/AFP via Getty Images)
CHINA THREATENS 'SERIOUS CONSEQUENCES' AFTER US WARSHIP AGAIN SAILS BY CONTESTED PARACEL ISLANDS
"So while we're pulling in and pulling back and decimating our own military with the guy in the White House and so forth, and while we have a Putin wing even within the Republican Party and so forth… China is on the move. And the greatest threat that we face as a country is the inability to wake up to what the hell's going on here and pretend that we can parse out these countries and all the rest. We have a mess on our hands," he said. 
The "Life Liberty & Levin" host shared how China's footprint in Latin America is growing and has already become the region's second-largest trade partner after the United States. He shared how China and Russia are pursuing infrastructure projects in Africa and how China continues to patrol the South China Sea. 
China, he said, is also appearing in Vietnam and the Solomon Islands and is brokering deals with Iran and Saudi Arabia. 
"The whole Middle East picture is changing. And where's Biden? Biden's putting pressure on Israel. Where's Biden? A day late and a dollar short with Ukraine," he said. "So many Republicans running for president are complaining that we are stretched too far. Well, we're not stretched at all." 
CLICK HERE TO GET THE FOX NEWS APP
"Where is the Reagan of our time? Where is the Thatcher of our time? Where is the Brian Mulroney of Canada of our time? Where is the John Paul second of our time? Where's the Helmut Kohl of our time? Where's the Churchill of our time?" he asked. "Where are they? Because we need them desperately."   
Ashley Carnahan is a production assistant at Fox News Digital.