April 7, 2023
Everton: Sean Dyche criticises rise of gamesmanship after Harry Kane incident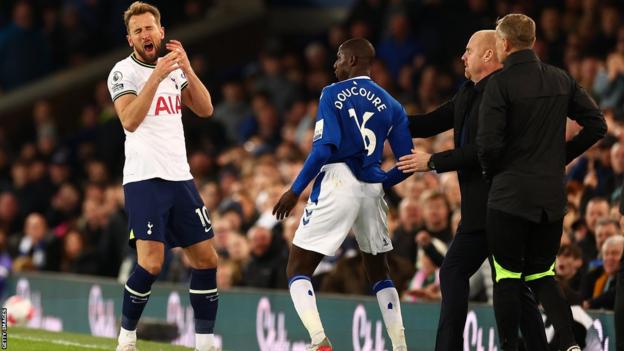 Everton manager Sean Dyche has criticised the rise of gamesmanship in football where players exaggerate injury to gain an advantage.
"I don't regard that as cheating. It's gamesmanship," said Dyche.
"Harry Kane is a great pro but some of it leaves you scratching your head."
He added: "If you make a rule, everyone will try to find a way to bend it.
"So you make a rule that you can't touch anyone in the face and now everyone goes down if they do get touched in the face.
"It was a big drama over nothing. It is worrying to me when I see the physio concussion-testing him after that. Really? Come on."
Dyche compared the reaction to the Kane incident to that involving Everton defender Michael Keane, who was caught on the ankle by a studs-up challenge from Lucas Moura, who was sent off.
"The strange thing about football is that on one night you have a player who, in theory, is very close to getting a broken ankle and nothing is said, and another gets a broken eyelash and it's like the world is going to end," said Dyche.
"But that's society and how things have changed. It (the Kane incident) was pretty much nothing, but football has changed.
"Everyone has become so precious, haven't they? The rules are so precious, in society as well as football.
"I've been on about it for years. Millions of kids see footballers cheat every week, diving all over the place, and no-one says a word.
"Someone gets flicked in the eyelash and it becomes a big situation. That's just the way it is now.
"And that's not about being a football manager; it's just being human. If lads go down in training I do tell them to get up. I have my own authentic standards."

Our coverage of Everton is bigger and better than ever before – here's

everything you need to know

to make sure you never miss a moment