September 6, 2022
'Chronically ignored': Alberta police reform legislation ready to go fall session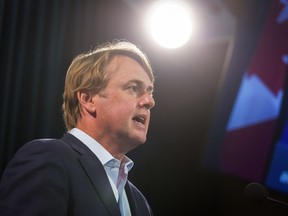 Legislation to update Alberta's Police Act will be ready for debate this fall if the UCP's new leadership makes it a priority, says the province's justice minister.
"It's been needed for many years and chronically ignored," Justice Minister Tyler Shandro said in a recent interview. "We have done our review … it's at least available for the legislative agenda for the future government to consider. We're ready for it to hit the floor of the legislature this fall, and I hope that the next government allows it to be debated and voted on."
Edmonton Journal Headline News
Sign up to receive daily headline news from the Edmonton Journal, a division of Postmedia Network Inc.
By clicking on the sign up button you consent to receive the above newsletter from Postmedia Network Inc. You may unsubscribe any time by clicking on the unsubscribe link at the bottom of our emails. Postmedia Network Inc. | 365 Bloor Street East, Toronto, Ontario, M4W 3L4 | 416-383-2300
Alberta's Police Act has not seen a full-scale update since 1988, when it was passed to govern the operation of municipal police services. Community and policing leaders have repeatedly called for changes to the Police Act, saying it no longer meets the needs of modern policing.
United Conservative Party members will elect a new leader and Alberta's next premier Oct. 6. The next legislative session is scheduled from Oct. 31 to Dec. 1. Shandro — who is also promoting the controversial idea of an Alberta provincial police service — said there are no guarantees the new premier will ask him to remain in the justice role.
The NDP government under Rachel Notley began consultations on Police Act reforms in 2018 but did not implement any changes prior to the 2019 election. In June 2020, amid outcry over the police U.S. murder of George Floyd, then-UCP Justice Minister Doug Schweitzer he would "accelerate" reforms to the legislation. Schweitzer's replacement — Edmonton MLA Kaycee Madu — said in September 2020 he would "make sure that work is expedited and completed," but did not produce any legislation before being shuffled out of the ministry in February following a phone call to Edmonton's police chief over a distracted driving ticket.
Shandro said the new legislation will address concerns about the police disciplinary process. With the exception of cases in which police officers kill or seriously injure someone, or face accusations of criminal wrongdoing, police discipline in municipal departments is handled by each service's chief through a professional standards branch. Under the current legislation, chiefs lay misconduct charges and select the judge to preside over the accused officer's hearing, which some say creates the potential for bias.
Some, including the Edmonton Police Association, have called for an independent third-party agency, like the Alberta Serious Incident Response Team (ASIRT), to handle Police Act charges. Shandro said consultations on the new act raised questions about whether "we need a … professional standards section, in every service to do the code of conduct reviews?"
He also said code of conduct reviews for RCMP officers should fall under provincial legislation, though "we would obviously need the federal government to agree to that."
Other potential changes relate to HR and performance issues. "There's a bit of a vacuum right now with HR and performance issues and how they're not addressed in the Police Act."
Shandro added there is talk of expanding ASIRT's mandate but did not go into details.
"This is, at least from from our perspective as current government, in the pipeline for it to hit the floor this fall," he said.