May 3, 2023
Untouched Tesla Roadsters Go Up For Auction After More Than A Decade In Shipping Containers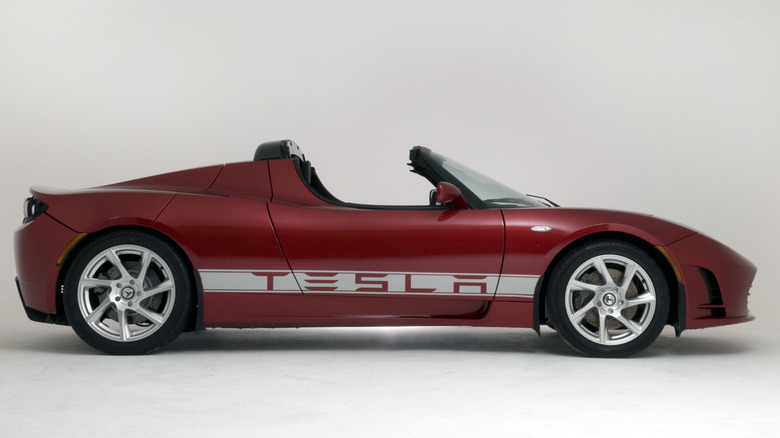 Heritage Images/Getty Images
Gruber Motors, which has made a name for itself by providing aftermarket support to aging Tesla cars, has listed a trio of rather interesting cars that will soon go under the hammer. The vehicles in question are a set of untouched first-gen Tesla Roadsters that sit in pristine condition inside a shipping container. One of them is a base model Roadster in the Very Orange shade, while the remaining two units are the faster Sports variant adorned in Very Orange and Radiant Red paint jobs.
Apparently, these three Roadsters were purchased by a customer in China but were seemingly abandoned. Ever since, they have been lodged safely inside the containers in a shipping yard, piling up storage dues for more than a decade. In some cases, even the plastic seat cover is intact on the abandoned units. The seller is reportedly trying to sell all three cars as a bundle but has kept the doors open for individual auctions, as well.
These first-gen Tesla Roadster EVs were a performance beast back in the day, but in the years since their inventory was exhausted in 2012, they have garnered quite some collectible value for car enthusiasts. Unlike the current crop of Tesla electric cars that are designed from scratch and assembled in-house, the first-gen Roadster was actually based on the Lotus Elise. Regardless, the original Roadster is a special car because it's the vehicle that helped Tesla start its journey in the EV market.
High collectible value with some caveats
Gruber's auction page mentions that the three Roadsters eating dust in China also come with unopened boxes in their trunks most likely containing the charging gear, and another large package that might host the hard top part. The trio of EVs are expected to arrive on U.S. soil at some point in May, assuming they're not sold in China before that. As well, Gruber reports that the seller is willing to fly to China if they find any prospective buyers there.
While the first-gen Roadster was not a bad-looking car by any stretch of the imagination, the bigger concern is whether the battery packs have any juice left in them. The auction page also warns what they "do not yet know is if the ESS pack Service Plugs were pulled before shipment." Either way, the seller is already accepting bids via Gruber, but it is unclear how far up the bidding wars will go compared to the starting price of around $100,000 for the base model Roadster over a decade ago.
The sports car touted a range of around 245 miles on a single charge and went from zero to 60 mph in under four seconds, locking horns with gasoline-powered sports cars in its era. In 2023, Tesla is preparing to ship the second-gen Roadster, a four-seat electrified sports car that goes from zero to 60 mph in 1.9 seconds, commands a top speed of over 250 mph, and claims an unprecedented range of over 600 miles.