May 6, 2023
Panasonic TOUGHBOOK And ProGlove Lend Logistics Leaders A Hand At IntraLogisteX
Join Panasonic TOUGHBOOK and ProGlove to learn about the latest mobile solutions boosting efficiency in the logistics industry.
BRACKNELL, UK. 22nd March 2023 – Panasonic TOUGHBOOK will be joining ProGlove at IntraLogisteX on March 28-29th to showcase the powerful solutions that the partnership offers to logistics workers at all points in the supply chain. The two-day event, hosted at the NEC in Birmingham, is the UK's largest intralogistics exhibition and offers solutions to drive efficiencies and reduce costs.
As two of the toughest mobile computing solutions on the market, Panasonic TOUGHBOOK and ProGlove combine seamlessly as a stand-alone scanning solution or as essential elements of Panasonic's voice picking solutions for the supply chain, warehouse operations, inventory checking and retail. The stand will display the best of this collaboration, including ProGlove MARK 2, a smart glove wearable barcode scanner. Typically replacing wired or wireless handheld and ring scanners, the solution enables operators to remain hands free and with full dexterity to manage other tasks.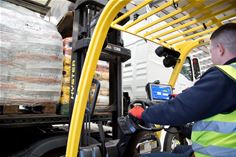 A docked G2 installed on a forklift
The ProGlove MARK 2 range fits seamlessly into Panasonic's flexible voice picking solution that combines the use of a bluetooth headset with its rugged tablets, a built-in barcode scanner or the ProGlove MARK 2, a holster or shoulder strap and a TOUGHBOOK Omnia custom voice application.
"In a modern warehouse, mobile devices are the critical link between the main office and warehouse floor, informing and powering operations from forklifts to picking," said Mike Willett, sector lead for Retail, Logistics & Manufacturing, UK&I at Panasonic TOUGHBOOK. "Panasonic and ProGlove are the perfect partners to provide tailor-made solutions for this market, and I look forward to spending more time with our partners and customers at IntraLogisteX to discuss the latest challenges and opportunities in the sector."
The ProGlove stand will be i108. You can register for free here.
Press Contact:
Megan Mackintosh
The Amber Group
[email protected]
(+44) 07538813695
About Panasonic Group
A global leader in developing innovative technologies and solutions for wide-ranging applications in the consumer electronics, housing, automotive, industry, communications, and energy sectors worldwide, the Panasonic Group switched to an operating company system on April 1, 2022, with Panasonic Holdings Corporation serving as a holding company and eight companies positioned under its umbrella. Founded in 1918, the Group is committed to enhancing the well-being of people and society and conducts its businesses based on founding principles applied to generate new value and offer sustainable solutions for today's world. The Group reported consolidated net sales of Euro 56.40 billion (7,388.8 billion Yen) for the year ended March 31, 2022. Devoted to improving the well-being of people, the Panasonic Group is united in providing superior products and services to help you Live Your Best. To learn more about the Panasonic Group, please visit: https://holdings.panasonic/global/
About Panasonic Connect Europe GmbH
Panasonic Connect Europe began operations on October 1st, 2021, creating a new Business-to-Business focused and agile organisation. With more than 400 employees and led by CEO Hiroyuki Nishiuma, the business aims to contribute to the success of its customers with innovative products and integrated systems and services – all designed to deliver its vision to Change Work, Advance Society and Connect to Tomorrow.
Panasonic Connect Europe is headquartered in Wiesbaden and consists of the following business divisions:
• The Mobile Solutions Business Division helps mobile workers improve productivity with its range of Toughbook rugged notebooks, business tablets and handhelds.
• The Media Entertainment Business Division incorporating Visual System Solutions offers a range of high brightness and reliable projectors as well as high quality displays; and Broadcast & ProAV offers Smart Live Production solutions from an end-to-end portfolio consisting of PTZ and system cameras, camcorders, the Kairos IT/IP platform, switchers and robotic solutions that are widely used for live event capture, sports production, television, and xR studios.
• Business and Industry Solutions delivers tailored technology solutions focused on Retail, Logistics and Manufacturing, using its unique Gemba Process Innovation approach. Its purpose is to increase operational efficiency and enhance customer experience, helping businesses to perform at their best, every day.
• Panasonic Factory Solutions Europe is helping to make smart factories a reality with its wide range of automated solutions including electronics manufacturing solutions, robot and welding systems and software solutions engineering.
For more information about the Mobile Solutions Business Division, please visit: https://eu.connect.panasonic.com/gb/en/product-groups/toughbook-homepage
Please visit Panasonic Connect Europe's LinkedIn page: https://www.linkedin.com/company/panasonic-connect-europe/