June 5, 2022
'Hibike! Euphonium' 3rd Season Premieres in 2024, Gets Theatrical OVA in 2023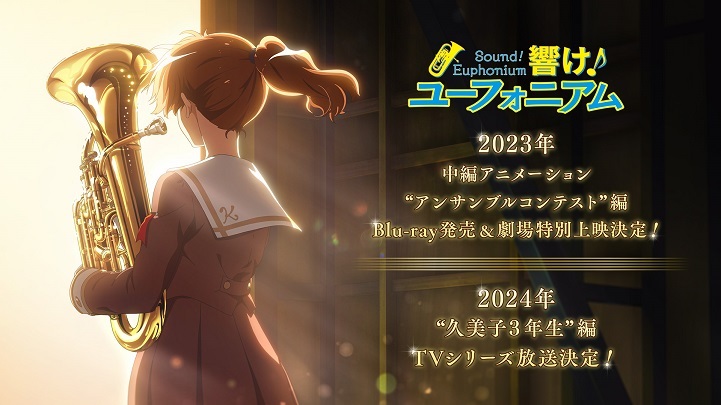 The Hibike! Euphonium 6-kaime da yo! Uji de Omatsuri Festival event revealed on Saturday that the third anime season, Hibike! Euphonium: Kumiko 3 Nensei-hen (Sound! Euphonium 3), will premiere in 2024. The event also announced an original video anime titled Ensemble Contest-hen, which will open in theaters in Japan and ship on home video in 2023.
The third television anime is adapting Ayano Takeda's Hibike! Euphonium: Kitauji Suisougaku-bu, Ketsui no Saishuu Gakushou (The Kitauji Concert Band's Decisive Final Movement), the final two volumes in the main story.
Kyoto Animation adapted the novel into two television anime seasons in Spring 2015 and Fall 2016, each running for 13 episodes. The Kitauji Koukou Suisougaku-bu e Youkoso (Welcome to the Kitauji High School Concert Band) and Todoketai Melody (May the Melody Reach You!) compilation movies opened in Japan in April 2016 and September 2017.
The Liz to Aoi Tori (Liz and the Blue Bird) side story movie premiered in April 2018. The Chikai no Finale (Our Promise: A Brand New Day) sequel movie premiered on April 19, taking place during the second school year.
Crunchyroll simulcast for both seasons with subtitles. Pony Canyon USA shipped the first season on home video between June 2016 and August 2016, followed by the second season in August and November 2018. Eleven Arts licensed both compilation movies, the Liz to Aoi Tori side story movie, and the sequel movie in North America.
Announcement
Source: PR Times