April 14, 2023
Gambling and football 'a match made in hell'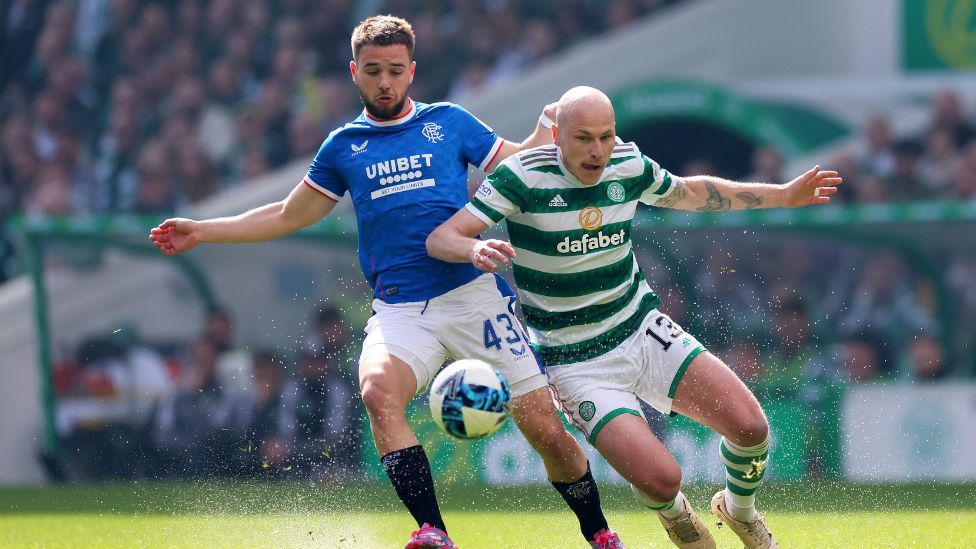 Scottish clubs should follow the English Premier League in banning betting sponsorship from the front of matchday shirts, a Celtic fan with a gambling addiction has said.
Lifelong supporter Martin Paterson, 63, warned action is needed to tackle the "horrible" addiction.
The Premier League ban will come into force by the end of the 2025-26 season.
The Scottish Professional Football League (SPFL) said there were no plans to follow suit.
It stated sponsorship was "a matter for each club" and described betting deals as "a significant source of income" for many teams.
Three Scottish Premiership clubs have betting sponsors on the front of their shirt – Celtic with Dafabet, Rangers with 32Red and Unibet and Dundee United with QuinnCasino.
Mr Paterson, whose calls have been backed by former first minister Henry McLeish, said his addiction began with betting on football coupons.
He stopped gambling in 2014 and has been campaigning against online and casino gambling since.
"It's just a horrible, horrible addiction."
Mr Paterson said: "I fear that money is more important [to the clubs] rather than health, because gambling is a mental health disorder.
"And on a moral basis professional athletes should not be used as billboards advertising products that aren't safe for everyone."
According to the latest statistics from the Scottish Public Health Observatory, about 0.4% of Scottish adults – 18,000 people – were classed as problem gamblers in 2021. A further 1.5%, about 68,000 adults, were likely to be at risk of moderate gambling problems.
And men were significantly more likely to be problem gamblers than women, 0.7% and 0.1% respectively.
'It's embedded in society'
Mr Paterson said he wanted clubs to go even further than they had in England and expressed fears that betting firms would still be advertised on shirt sleeves and training kits.
"They can do better than promote products that aren't safe," he said.
"Tobacco said sport wouldn't survive without their sponsorship and the gambling industry are using the same mantra. Of course they would survive.
"But on a moral ground we shouldn't be promoting this stuff to kids and thinking it's alright. It's embedded in society enough."
Mr McLeish, who also played professional football, described the English Premier League move as a "small but significant step forward".
He told Good Morning Scotland: "I am disappointed at the SPFL's response because it seems to be not tenable to argue that it's a matter for the clubs when indeed, as an association, they look after the general interests of football.
"I think we're in a position in Scotland where, forgive the pun, it's a match made in hell because quite frankly the SPFL is desperate for money and of course the gambling industry is desperate for advertising.
"So it's not a good decision on the back of what has happened in England."
While acknowledging Scottish football teams are often cash-strapped, the former first minister argued tobacco, alcohol and gambling firms should have no place in Scottish football.
"We dealt with tobacco, now we've got to deal with alcohol, now we've got to deal with gambling."
Mr McLeish called for a phasing out of gambling and alcohol sponsorship to allow the SPFL and clubs to find alternative sponsors.
"I cannot believe that in Scotland and the United Kingdom there are not good sponsors willing to come in to the game if the game itself could be made more attractive to those particular sponsors."
'Significant source of income'
Following the English Premier League's announcement on gambling sponsorship, an SPFL spokesperson said: "There are no plans for a league-wide proscription of such deals.
"For many SPFL clubs, sponsorship from gambling companies is a significant source of income which helps to support their business models and enables investment in many of the important community activities which clubs undertake."
The Betting and Gaming Council, which represents the industry, welcomed the SPFL's statement.
It said the "overwhelming majority" of the 22.5 million people in the UK who bet each month do so "safely and responsibly".
The organisation added the "rate of problem gambling remains low by international standards at 0.3% of the UK's adult population – down from 0.4% the year previous".